Why Hiring Before Christmas is the Key to a Successful 2022
As 2021 draws to an end, there's an inevitable focus on Christmas and New Years. Between the madness of the holidays and the usual cold setting in, it can be tempting to batten down the hatches until next year when it comes to recruiting for roles.
After all, who has time for hiring when there's Christmas shopping to be done, Santa photos to be taken and presents to be wrapped?
But this common approach of waiting until January isn't necessarily a helpful one, especially when you're looking to secure talent in a candidate short market. We're here to show you why hiring before Christmas is the key to a successful 2022.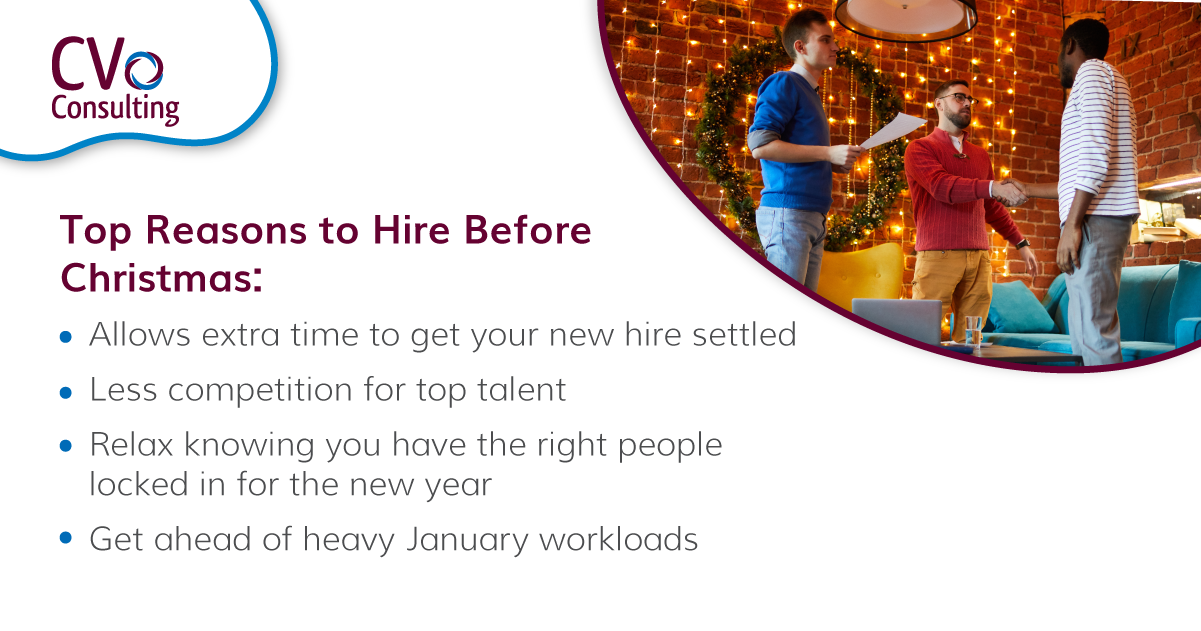 1. It's a Great Time to Get Settled
December's festive cheer creates a wonderful atmosphere for any new Engineering, Technical or Manufacturing candidate to begin in a new role. While there's bound to be plenty of learning involved, there are also plenty of social occasions and opportunities for introductions in a more relaxed environment.
Recruiting someone sooner will also take the strain off the rest of the team. With more time for training this side of Christmas, you're setting them up to hit the ground running in January when things start up again. The rest of your employees will thank you.
2. There's Less Competition
By hiring before Christmas, you're breaking with tradition. Your competitors will probably be sticking to the conventional route of beginning interviews in January, so starting your hiring process in December may open you to a pool of talent that isn't being inundated with numerous other offers.
The skill shortages have been apparent in 2021 across many industries, including Engineering. Surveys show that UK businesses have the highest recruitment intentions in eight years, with 80% of UK employers planning to hire over the next 12 months. It's no secret that securing the best Engineers on the market is a challenge, so it's important to get any possible advantage over your competitors. The last weeks of the year can be an excellent time to engage with passive candidates that may have been otherwise occupied earlier in the year.
3. Relax and Enjoy Your Holidays
This applies to both you and your new employee. Extending a job offer before Christmas is an early present to you both, giving everyone the gift of peace of mind. You can relax during the holiday season, knowing that you've got an excellent new employee ready to go. They can relax knowing they've secured a role where they can add value in an exceptional workplace. There's nothing like the satisfaction of a job well done.
After a long and difficult year for many, creating the certainty of having the right people in the right roles will allow everyone to spend the holiday break recharging, ready to launch into 2022.
4. Outstrip Heavier Workloads in the New Year
While December is known for winding down in some businesses, January is all about ramping up.
All is not lost if you haven't locked in a team member ahead of the new year, but we've often seen Engineering hires beginning in Q1 can be slower to integrate and make an impact. It's a challenge for both the hirer and the candidate to start the role during such a busy time of the year!
Clients often find that completing the majority of hiring in Q4 with only necessary recruitment throughout the remainder of the year is the most successful approach. This leaves them free to focus on making a fresh start on projects when January rolls around.
Beat the Christmas Rush – Start the Hiring Process Now
Hiring before Christmas is certainly the best and least stressful way to approach recruiting Engineering positions. But if you're looking for a truly hassle-free experience, consider outsourcing your recruitment to a specialist Engineering recruitment agency.
At CV Consulting, we can save you the time and stress of hiring, give you a competitive advantage, and significantly increase your ability to secure top-quality employees.
If you're looking to beat the Christmas rush, speak to our UK team today for more hiring tips and recruitment support. We're experts at procuring skilled Engineering candidates, guaranteeing you a successful 2022.